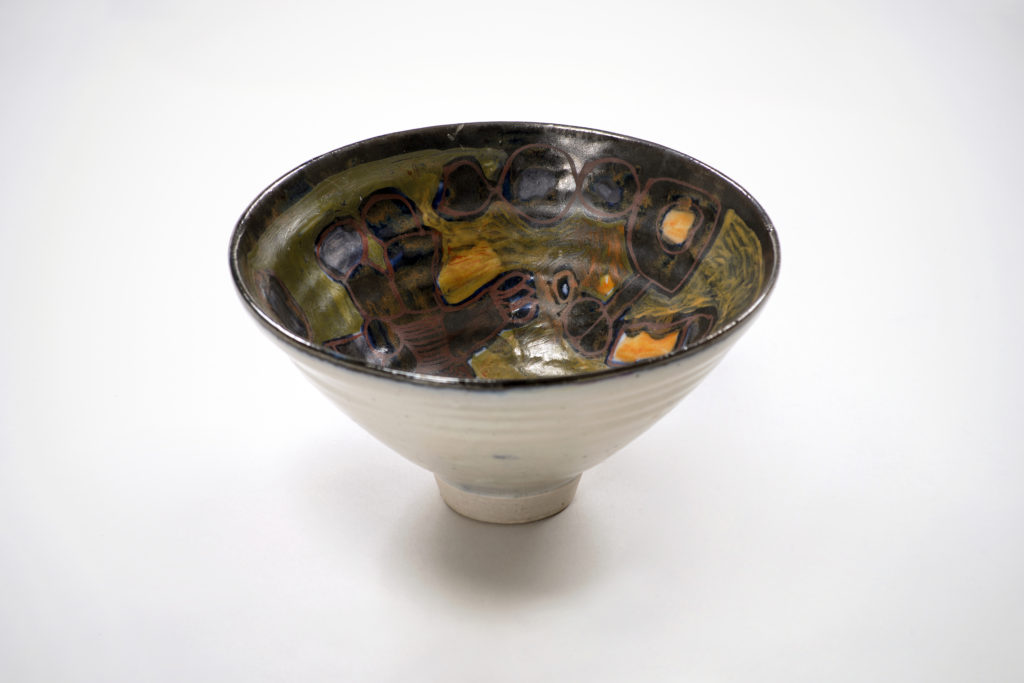 Regina's international reputation as a distinctive centre for ceramic practice began in the mid-sixties, with the arrival of Jack Sures (1934-2018) at the University of Saskatchewan's Regina Campus, now the University of Regina.
Responding to a burgeoning regional interest in clay, Sures was hired in 1965 by Californian Ricardo Gómez, Head of the Sculpture department at the School of Art. Sures' role was to establish the ceramics program at the University. It was largely through these two educators that a ceramic movement flourished in Regina. Underscoring this revolution was a shift in the role of clay toward sculpture, a move away from the use of the medium for utilitarian purposes. The California Funk scene played an important role here. Artists were invited from the West Coast to Regina, bringing with them the Funk proclivity for surrealist subjectivity and kitsch that opposed cool East Coast modernism. One such artist, David Gilhooly, was hired in 1969 to teach ceramics at the School of Art. During the 1970s, the Regina clay scene was represented in exhibitions throughout Canada and the world, including the important 1973 exhibition Canada Trajectoires 73 at the Musée d'art moderne de la Ville de Paris.
Since that time, Jack Sures has become a longtime professor at the University of Regina, and was awarded the Alumni Association Award for Excellence in Undergraduate Teaching in 1991, and later the honorary title of Professor Emeritus upon his retirement in 1998. In addition to his many accolades, Sures was recently awarded the 2018 Governor General's Award for Excellence in the Fine Crafts.Examples of his work can be found throughout the campus, including a selection of vessels (Classroom Building, 1st floor hallway, outside CL 111), his 1972 ceramic mural (Classroom Building, 2nd floor staircase) and sculptural objects (Classroom Building, hallway CL 401.2). Other University holdings representative of the Regina Clay tradition include Ann James, Lorraine Malach, Marilyn Levine, Jeannie Mah, Cara Gay Driscoll, Ruth Chambers, Anita Rocamora and Victor Cicansky, all members of a generation of ceramicists who emerged under Sures.
Joseph Fafard's (b. 1942) outstanding cultural contributions have significantly raised the profile of art in Saskatchewan. He was directly impacted by Gilhooly's Funk ethos while they were colleagues at the School of Art where Fafard taught sculpture from 1968 until 1974. Gilhooly's influence changed the direction of Fafard's work, inspiring him to create personal and playful sculptures and caricatures. Over an art career that spans four decades, Fafard has since developed a national and international reputation for his ceramic and bronze works. His Saskatchewan upbringing is reflected in many of his artworks, most famously his sculptures of farm animals such as cows, which he feels represent the basis of a settled society that could sustain life for large groups of people and have become icons of the Prairie. He is known for pushing the limits of his medium, creating visual illusions, and exploring the capacity of ceramic, clay, and bronze. It was in the 1980s that he made the decision to switch to using bronze as his primary medium, rather than the plaster and ceramics he had become known for earlier in his career.
For more information, visit the Regina Clay: Worlds in the Making online exhibition by the MacKenzie Art Gallery, here.
For researchers, the University holds important material in Archives & Special Collections on the following ceramic artists: