Services for the campus community
We believe that the display of art enhances the University environment by reflecting diverse cultures, stimulating thought, supporting research, and providing enjoyment for those who work, study and visit the University. The University of Regina President's Art Collection is therefore available for display throughout our campuses upon request. Faculty, staff, and academic or administrative units may request the loan of available artwork from the Collection for display on University property.
Contact the Curator/ Preparator for more information at presidents.art.collection@uregina.ca.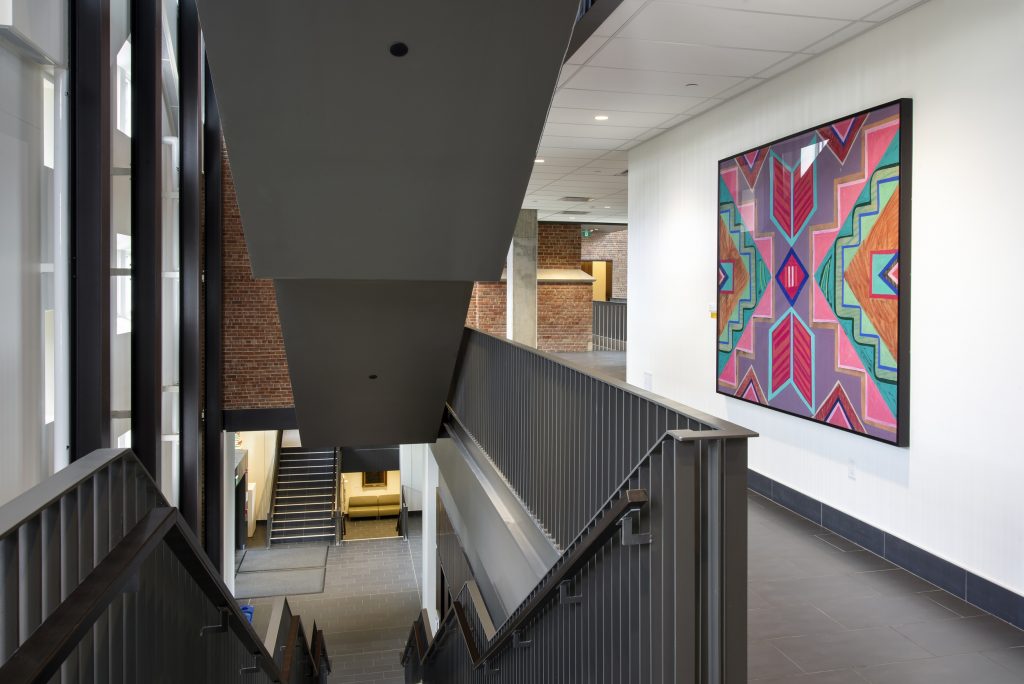 Arranging a Loan
The Curator/ Preparator is responsible for determining where and how artwork is placed. They will meet with the Borrower, discuss what they're looking for, and assess the site for factors such as security, public access, and environmental factors like light, humidity, temperature variations, etc. Display areas in front of the artwork should be clear of furniture, decorative objects, refuse, coat racks, photocopiers, and other objects. Likewise, artwork cannot be displayed in food preparation areas, or bathrooms.
After the site assessment, the Borrower will be provided with a list of artwork to select from. If the Borrower agrees to comply with the terms of the Loan Agreement, the Curator/ Preparator works with Facilities Management to co-ordinate installation of the chosen work.
During the Loan
Borrowers should be aware that the return of any loaned artwork may occur at any time. Artworks may be removed to rotate their display on campus, for conservation or framing, or for loan to exhibiting institutions. The Borrower will be notified in advance and every effort will be made to find an appropriate replacement within the Collection.
Artwork should not be removed or moved. If construction, painting, or moving occurs in the location of the artwork, the Curator must be notified with as much notice as possible in order to move the artwork to a temporary, safe location. The Borrower must also report immediately to the Curator/ Preparator any damage or immediate risk to the work. All movement of artwork must be co-ordinated by the Curator/ Preparator for insurance purposes, and the safety and care of artworks and staff. Display labels must also be left in place.
Borrowers have a responsibility to comply with the terms of the Loan Agreement and University policy. Those who neglect these responsibilities may be subject to restrictions on borrowing artwork in the future. They may also be asked to cover or contribute to financial losses relating to damaged or lost artwork, or reframing costs, for example.
Need art advice?
The Curator/ Preparator can also assist with any questions related to art and display. Acquiring or commissioning new artwork for your unit? Not sure how to arrange for removal, conservation, framing, or safe display for sculptures? Looking for guidance on creative display solutions? The Curator/ Preparator can help.
Contact them at: presidents.art.collection@uregina.ca.