(b. 1935)
Located in CB 101 (College Avenue campus, 1st floor, in stairwell next to main entrance)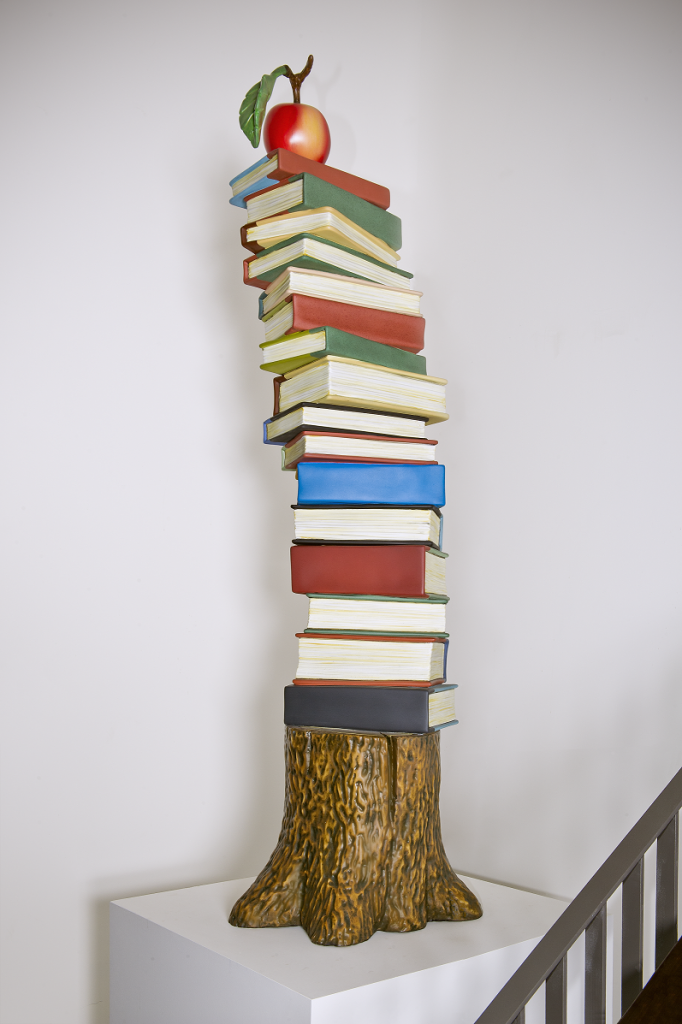 Stairway Tree of Knowledge, 2018
Steel, polystyrene, acrylic polymer, latex paint, varnish
78 3/4″ x 24 1/16″ x 22 1/4″
University of Regina President's Art Collection. Gift of Dr. Victor Cicansky, Ceramsky Art Works Ltd., Tree of Knowledge 2018; pc.2018.84
Stairway Tree of Knowledge is a pile of stacked books, topped off with an apple that honours the professors who taught me, and celebrates my two years at Regina College surrounded by books, most notably the humanities that changed my life and set me a course to be a creator.

Victor Cicansky, 2018
Victor Cicansky is a Regina-born sculptor known for his witty and postmodern exploration of Prairie imagery. He is a graduate of the University of Saskatchewan (B.Ed 1964). Although he initially intended to become a teacher, he spent his spare time studying ceramics at the Regina College School of Art under artists Beth Hone (1918-2011) and Jack Sures (1934-2018). He cites the time he spent in the library, surrounded by books, as "some of the most exciting learning experiences of my life". It is these experiences to which Stairway Tree of Knowledge pays tribute.
After graduating with a Bachelor of Arts degree in 1967, Cicansky pursued a Master of Fine Arts at the University of California. When he returned home to teach art at the University of Regina he brought the tenets of California Funk with him, which proved highly influential for many of his students and colleagues. He is credited with his role in the founding of the Regina Clay movement with Joe Fafard (b. 1942) and other Regina ceramists. The movement garnered international attention and demonstrated that ceramics could be sculptural, irreverent and timely.
Victor Cicansky retired as Professor Emeritus in 1994. In 2007 he received an Honorary Doctorate from the University of Regina and became a member of the Order of Canada in 2009.