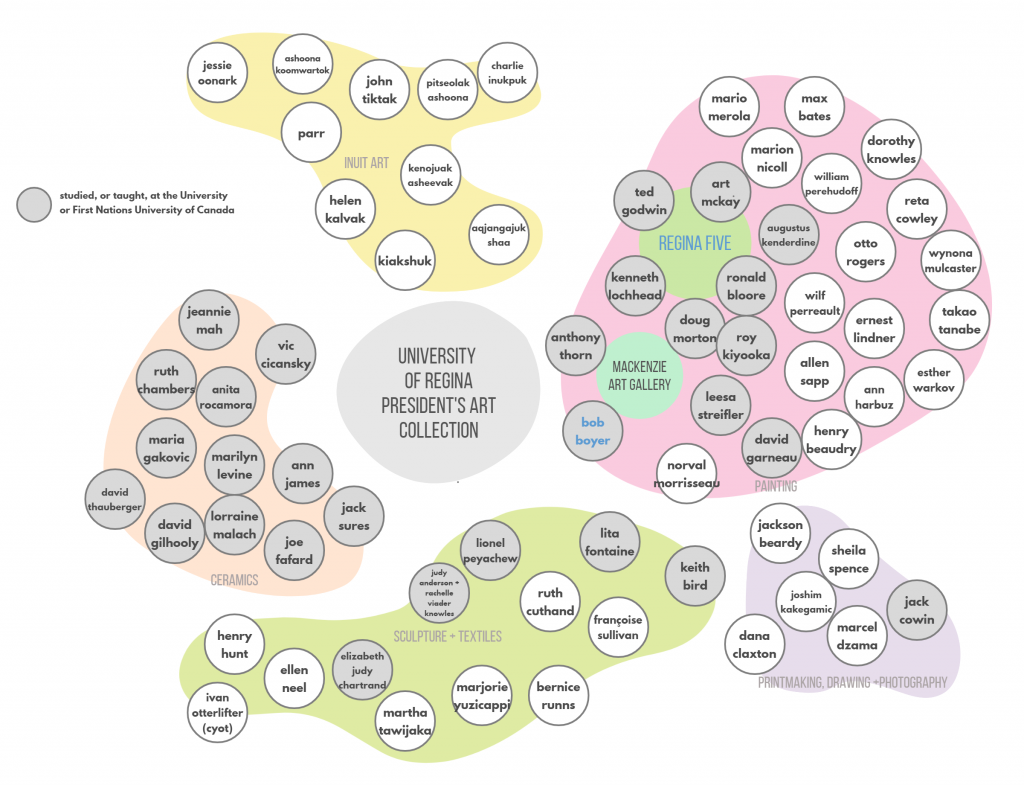 Welcome to the Campus Art Guide! On this site you will find information, images, and the locations of works of art displayed in the University of Regina's campuses, located in Regina on Treaty 4 territory.
The University of Regina has a remarkable visual arts legacy and a rich collection of artworks in a variety of media. The University's history of engagement with the arts began when art classes were offered during the institution's early days, with prints and paintings collected, commissioned, and donated from as early as 1929. In 1936, the University of Saskatchewan (Regina College) received a donation of cultural importance from Norman MacKenzie, a local lawyer. His bequest included both artwork and the funds to build a gallery. This was a catalyst for the revitalization of Regina College and a pivotal moment in establishing major cultural growth at the University, playing a foundational role in the School of Art, the Norman MacKenzie Art Gallery, and the University's Fine Arts programs.
Today, the University maintains an extensive collection of visual art that stretches back to the institution's earliest days as Regina College. Known as the President's Art Collection, these artworks have expanded during the tenure of each University of Regina President. Selected artworks can be viewed on both Regina campuses. Saskatchewan's rich history of artistic practice is well-represented, including the modernist abstractions of the Regina Five, Indigenous sculpture, textiles, and painting, and ceramics from the Regina Clay movement. The Collection is further enriched by Inuit sculpture, prints and textiles. Our main priority is to ensure artworks are accessible to all, in keeping with the University's mission of providing the most thought-provoking and culturally-rich learning and work environment possible.
The Campus Art Guide provides information about selected artworks in the collection, both on display and in storage. We welcome questions, comments and research requests from students, staff and the public. Please contact: presidents.art.collection@uregina.ca.
Research and writing for the Campus Art Guide by:
Bianca Hatin (Special Projects Administrator, Office of the President
Alex King (Curator/ Preparator, President's Art Collection)
Stephen King (Senior Researcher, Office of the President)
Stephanie Ross (Student Research Assistant, President's Art Collection)
Sarah Timewell (Student Research Assistant, President's Art Collection)
Sage Wosminity (Student Curatorial intern, Faculty of Media, Art and Performance)
View the University of Regina President's Art Collection Policies and Procedures here.