(1925-2011)
Located in LY 101 (hallway outside Dr. John Archer Library)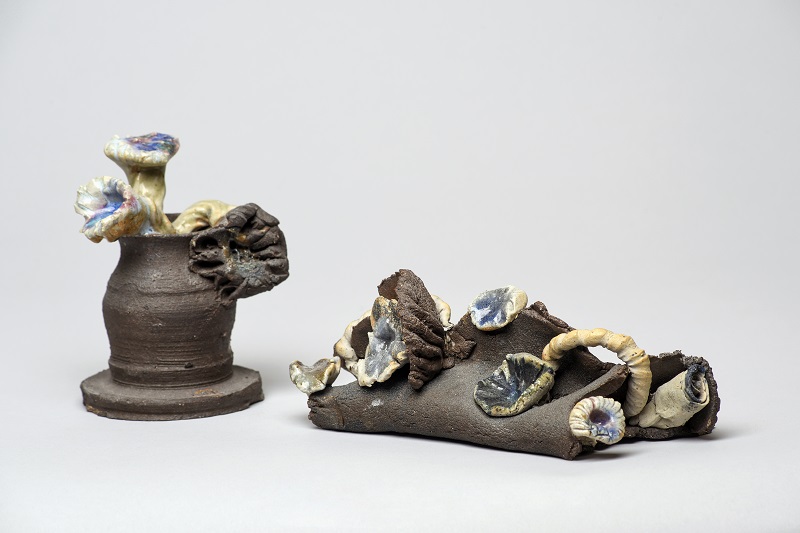 Untitled (flowers in vase), c. 1973
Clay
3 ½ x 3 x 3 ½ inches
University of Regina President's Art Collection. Gift of Bernard Mulaire, 2020; pc.2020.04
Untitled (horizontal flower arrangement), c. 1973
Clay
3 ¾ x 7 x 3 ¼ inches
University of Regina President's Art Collection. Gift of Bernard Mulaire, 2020; pc.2020.05
Ceramicist Ann James (b. 1925) relocated from her home in Hove, UK, to Regina in 1946. She began studying ceramics at the University of Saskatchewan, Regina Campus in the 1960's, eventually working her way from student to teacher. She would go on to teach an extension program at the university, introducing her to a circle of fellow artists who taught at, or were affiliated, with the school. An eagerness to expand the ceramics department as well as explore clay as a medium was of shared interest, culminating into what would later be described as the Regina Clay movement. Although never having an official list of members, the Regina Clay movement included artists such as Jack Sures, Beth Hone and David Gilhooly. Their work drew heavily on the California Funk movement that was blossoming in the United States. An approach that very much reflects the spirit of the times, California Funk can be characterized as a free-thinking, absurd, and expressive approach to the production of ceramics. Those at the University of Saskatchewan established ties with young California artist Ricardo Gómez who would help to connect the California Funk scene to the budding interest in ceramics that was emerging in Regina.
Thus began a group of educators and artists working to share a new approach to ceramics, both through teaching and within their own practices. As well as her major contributions to ceramics in Regina through her work at the university, James is best known for her hand in the creation of the Hone-James Studio which opened its doors in 1968. Located on 13th Avenue and Pasqua Street, James and fellow artist Beth Hone took possession of a United Church, reworking it into a fully functioning ceramics studio. A female-run artist centre and collaborative business venture was quite significant at the time. The studio offered classes to the public in addition to being a space for the two to focus on their own art. This entrepreneurial spirit reflects the shift towards second-wave feminism happening at the time, as both James and Hone were members of the Regina chapter of Voices for Women and took on themes of feminism in their work.
James in particular was inspired by the ceramic Funk movement, even going so far as to facilitate workshops at her studio hosted by California artists. James' own work often focused on botanical subjects such as Untitled (white rose) (1973), Untitled (horizontal flower arrangement) (1973), and Untitled (flowers in vase) (c. 1973). Her eccentric sculptures take influence from her Funk forebears but express a whimsical and evocative manner signature to James. With organic and loose shapes, her flowers seem to float, reminiscent of having an aquatic element. She used light washes of glaze or sometimes left her work bare, exposing the natural texture of the clay.
It is with works like these that James and fellow members of the Regina Clay movement would come to elevate ceramics to a recognized and celebrated medium. Previously, ceramics had struggled to gain traction and had not been taken seriously as an artistic medium, oftentimes seen purely as craft. Even clay itself was considered lesser in comparison to pricier mediums such as porcelain. Despite the formulation of this group happening within an academic setting, the artistic ethos of James and her collective group was built upon rejecting authority and the rigid ideals of artmaking. Choosing to focus on free and anti-formal experimentations with clay led the Regina ceramics community to the status of a movement that garnered international acclaim.