(B. 1960)
Located in LY 101 (hallway outside Dr. John Archer Library)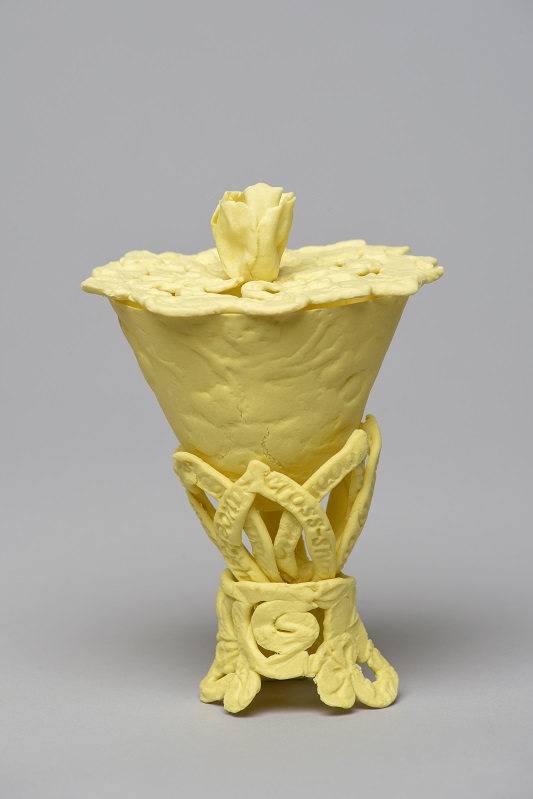 Yellow Cup with Tulip Lid, 2014
Cone 10 coloured porcelain
5″ x 3 1/2″ x 3″
University of Regina President's Art Collection. Gift of Brett Waytuck and Wes D. Pearce, 2020; pc.2020.08
Artist and educator Ruth Chambers has been teaching at the University of Regina since 1994. She is currently a professor in the Faculty of Media, Art, and Performance. Chambers works primarily with ceramics and is best known for her delicate and thoughtful treatment of porcelain both in sculpture and installation. Yellow Cup with Tulip Lid was created during her time as an artist in residence at The Banff Centre in Alberta in 2014. She describes this time as a transitional period, shifting from her previous focus on ceramic based installation to experiment with smaller, more object-based work.
Chambers often finds her inspiration in that of the still life, a genre characterized by its portrayal of everyday domestic objects such as vases, flowers, glassware and fruit. Upon first glance the traditional still life could be viewed as nothing more than commonplace objects arranged in an aesthetically pleasing manner but under the surface these pieces often reveal messages of impermanence and fleeting beauty. These ideas are often examined and played with in Chambers' ceramics.
Drawing on both the decorative vessel as well as botanical references from the still life genre, Chambers intertwines these elements into Yellow Cup with Tulip Lid. The cup is made in a plaster press mold prepared by the artist, and the lid features a slip trailed[1] drawing on the top as well as pressed stamps made from Chambers' own drawings. The tulip and other vine-like details are constructed by hand. The piece remains unglazed and is tinted with a soft yellow stain, so as not to detract from the overall silhouette.
Her unique and sometimes unconventional approach to ceramics, coupled with her ability to utilize multiple techniques, allows Chambers to explore the relationship between surface decoration and the overall form of her ceramics. Yellow Cup with Tulip Lid playfully intervenes with what we think of as a cup. It calls into question the functional value of an object versus its ornamental value. Much like the still life, Yellow Cup with Tulip Lid is both decorative and pleasurable to look at, but its carefully sculpted porcelain evokes a sense of precariousness and fragility.
Chambers' delicately crafted ceramics are a playful and ethereal interpretation of the tradition of ceramics, as well as the values associated with it.
Ruth Chambers holds a diploma from the Ontario College of Art (1983), and a Master of Fine Art from the University of Regina (1994). Her work has been extensively exhibited both nationally and internationally throughout her career. Her most recent solo exhibition, Tend, is on display at The Art Gallery of Regina from February 5 – April 11, 2021.
---
[1] Slip trailing is a method of using watered down clay to draw on raised patterns and shapes to the surface of the clay