1954-2019
Currently not on display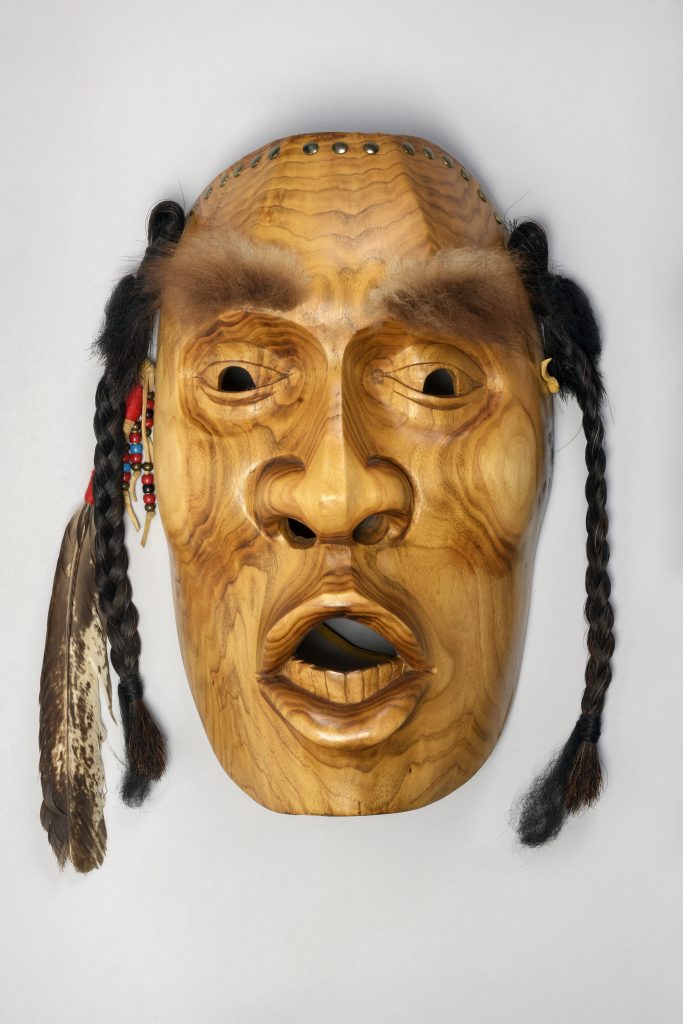 Nakahsoowot, c. 1997
Wood, hair, feathers, beads, metal
19″ x 12″ x 11″
Gift of Dr. Morris C. Shumiatcher, O.C., S.O.M., Q.C. and Dr. Jacqui Clay Shumiatcher, S.O.M., C.M., 2018; sc.2018.02
Plains Cree/ Wolastoqiyik educator and artist, Ned Bear (1954-2019), was inspired to carve at the age of eight, after watching an Elder from his home community of Ekpahaq First Nation (New Brunswick). He later described this experience as an "epiphany", recalling the powerful smell of smoke from the carver's pipe, the sound of wood being chopped, and the energy emanating from the studio. After becoming the first Indigenous graduate from the New Brunswick College of Craft and Design, his creative journey led him to Treaty 4 territory, where he studied at what is now First Nations University of Canada. He continued his training in fine art at the Nova Scotia College of Art and Design, graduating in 1987.
Bear's oversized masks feature exaggerated expressions and bring forth traditional spiritual values. As with all the companion masks, Nakahsoowot (c. 1997) incorporates natural media rich in symbolism. The metal studs crowning the forehead are of the earth, while the horsehair braids symbolize the free spirit of the horse. The mask's eyebrows are made from bear fur, for healing. The wood base is likely yellow birch or butternut. The appeal of the mask lay in its ability to hide the wearer, giving them the courage to reveal their true self.
Working and remaining deeply connected to the Great Spirit or pawakan, and natural materials, was central to Bear's practice. Bear was also known for his stone sculptures and spirit guides carved directly into the trunks of living trees around his home community. He also carved cedar, ash and walnut flutes.
Bear approached artmaking by favouring intuition over prior planning, preferring the final sculpture to "reveal itself"1. He described the process as "allowing the spirit to guide me, and the medium to speak on its own behalf"2. Bear's legacy lives in the work of artists he mentored and trained, such as Justin Sappier (Passamaquoddy)-Wolastoqey (Maliseet).
Watch Ned Bear talk about his art: