(b. 1959)
Located in RI 118.1 (Office of Indigenization, Research and Innovation Centre)
View by appointment only*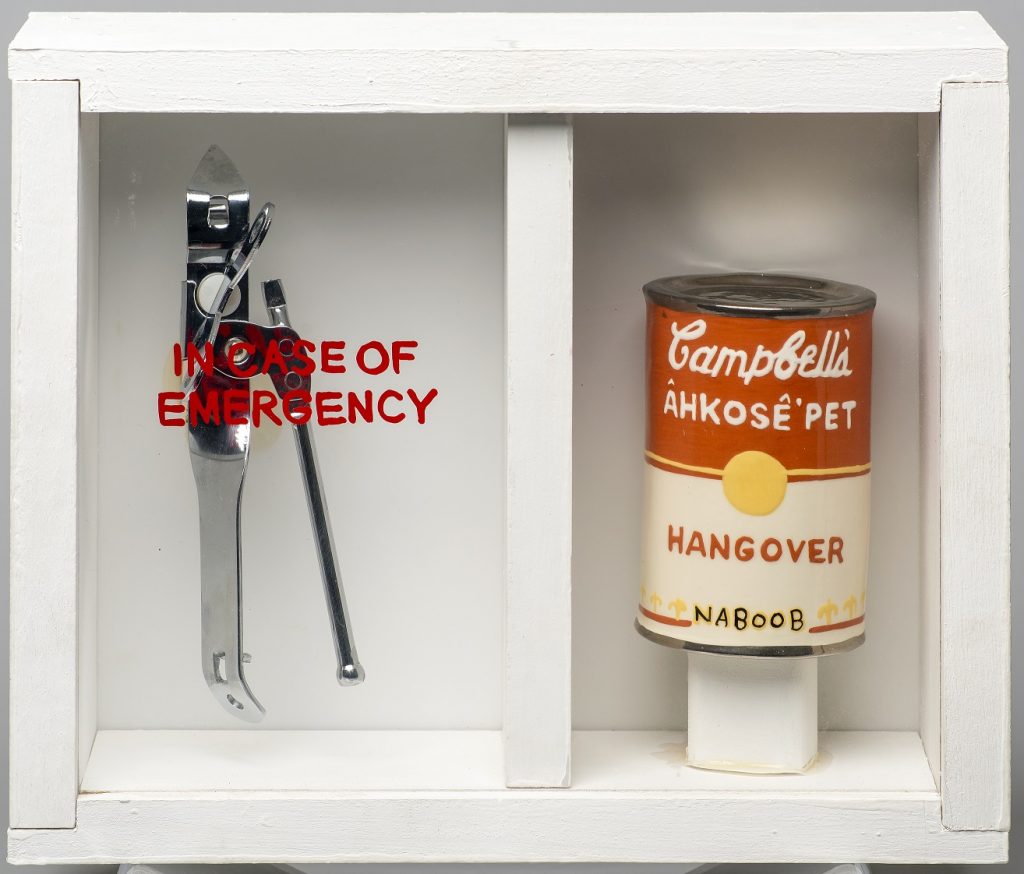 Hangover Soup, 2002
Ceramic, wood, plexiglass, readymade
9 1/2″ x 11 1/2″ x 4″
University of Regina President's Art Collection; gc.2002.4
Multidisciplinary Cree artist, Judy Chartrand (b. 1959), was introduced to ceramics after attending a local studio offering readymade ceramics for painting. A friend asked Chartrand to paint an Indigenous design onto a pot. Not knowing much about Native American pottery, the request sparked Chartrand's curiosity and prompted her to do some research. She recalls her daughter returning from the library with a handful of books, which included photos of Pueblo pottery. She also came across a video of San Ildefonso Pueblo artist, Maria Martinez, hand-building pots. Using these resources, she spent time learning and experimenting on her own, combining these techniques with her own style. Chartrand leaned into this passion, selling at the annual Native Arts & Crafts Christmas event in Vancouver and reinvesting earnings into supplies. Eventually, she built up a large body of work that she used as her portfolio to gain entry into college. In 1994, she attended the Langara College Fine Arts Program in her hometown of Vancouver. In 1998, she received a Bachelor of Fine Arts from the Emily Carr Institute of Art & Design, and completed her Masters of Fine Arts at the University of Regina in 2003.
After attending the Emily Carr Institute, Chartrand found herself back at home in Vancouver. It was during this time that she recalls searching for inspiration in the everyday, finding domestic objects with the intention of reinventing them. Intending to make a series of soup cans that incorporated Cree language, she went through her cupboard and found two cans, one being the iconic Campbell's soup. Upon examination, she noticed a few things that inspired the title of her series, Métis Soup. Firstly, the half-red/ half-white design; colours that have been used to stereotype Indigenous and non-Indigenous people. The second is the Campbell name itself, a common Métis surname. In conversation, she asked her mother for help translating English to Cree. By incorporating elements of Indigenous identity with mainstream visual culture, Chartrand hopes to encourage discussion and acknowledgment of systemic racism so it becomes a part of everyday discourse – much in the same way the branding of Campbell's soup is recognized in mainstream culture.
What started as an inside joke – a nod to pop art and culture – blossomed into some of Chartrand's most popular and well-recognized work. She continued with the use of the soup can in her work, Hangover Soup (2002); part of her graduate exhibition at the University of Regina. Hangover Soup consists of a ceramic soup can in a plexiglass-fronted box, behind the words IN CASE OF EMERGENCY in bold red lettering. This work was made in response to the relentless racism she experienced during her time living in Regina. She recalls that it was everywhere, from standing in line at the bank, to coverage on the news. Chartrand states that the hangover she is referring to is not literal, but rather, the "hangover of racism". She identifies the wear, exhaustion, and fatigue of constantly being subjected to racism as symptoms akin to that of a hangover, both spiritually and emotionally.
By combining elements of Indigeneity with that of non-Indigenous culture, Chartrand hopes to bring issues of discrimination to the forefront. Growing up in an impoverished area of Vancouver, she has seen the extent of disregard for Indigenous peoples, and uses her practice to share personal encounters with racism, as well as bring visibility to that faced by many others on a daily basis. Chartrand's work has been featured in numerous solo and group exhibitions throughout her career. She is also the recipient of the 2018 The Northwest Ceramics Foundation Award of Excellence.
* contact presidents.art.collection@uregina.ca / (306) 585 5420