(b. 1987)
Located in CB 201.4, hallway outside CB 208 (College Avenue campus, 2nd floor)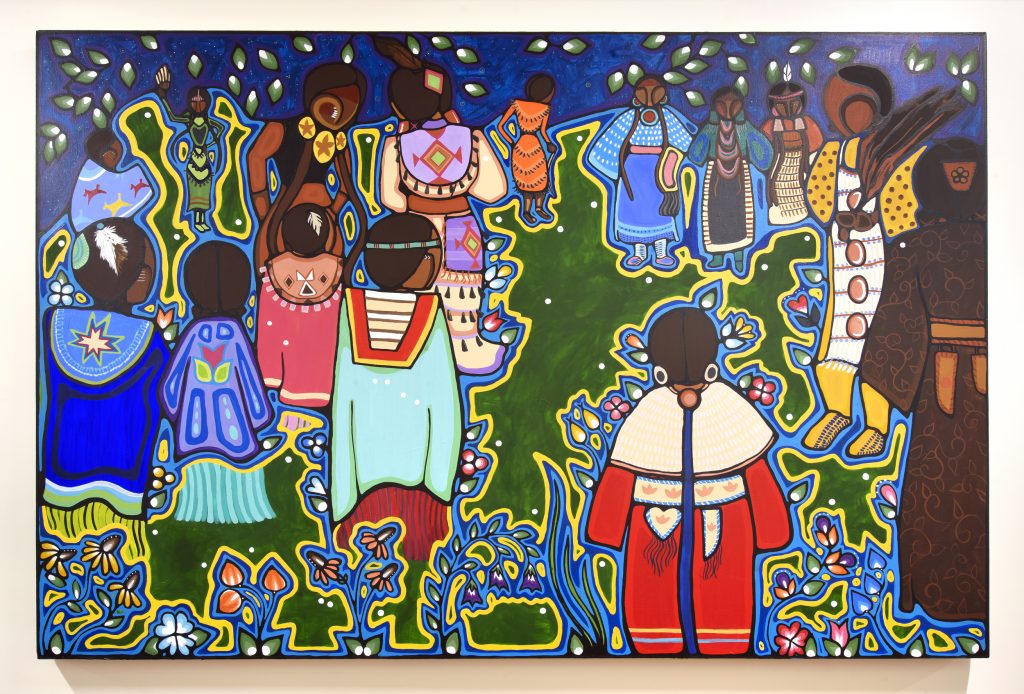 Saturday Night Pow Wow, 2019
Acrylic on canvas
61 1/2″ x 91″
University of Regina President's Art Collection; pc.2019.02

Of Saturday Night Pow Wow (from the Anuhkimoh! Make them dance! series), the artist notes:
This painting is a representation of the women's categories: Traditional, Jingle, Fancy shawl. Conceptually it was informed from my own personal experiences going to outdoor pow wows. I really always loved the way it looked when it was a beautiful Saturday night with the stars out and you can watch the dancers. The leaves above their heads are interpretations of the tree branches cut and placed around the arbour to give the spectators shade during the day. The blue and yellow around everything is a representation of the energies and lights that light up the pow wow grounds in the evenings.

Larissa Kitchemonia, May 2019
Larissa Kitchemonia is a Saulteaux woman from The Key First Nation who currently resides in Regina, Saskatchewan. She is a mother, student, artist and visual storyteller. She has been painting for the last 15 years. Her art practice consists of work that aims to promote, create, invade public spaces and infuse them with Indigenous presence. She believes a positive Native presence is the greatest story not always told and aims to contribute to it. Larissa's drawing and painting explore themes of nature, traditional First Nation ideas and practices.
---
In 2021, students enrolled in ARTH 324: Canadian Art and Cultural Identity, selected artwork from the President's Art Collection for an artwork research assignment. With support from the Curator, they researched and wrote extended label texts, which are reproduced throughout the Campus Art Guide. The following text was written in response to Saturday Night Pow Wow, (2019).
Larissa Kitchemonia is a mother, artist, and lifelong learner from The Key First Nation, attending the First Nations University of Canada as a graduate student and sessional. Art is her compulsion; her ideas regurgitate as an artform. She is humble about her practice although takes pride in her identity. She explores constructs of indigeneity, femininity, and decolonization as integral aspects of her worldview. She advocates for Indigenous presence in North American visual culture. Her deliberate creations are respective of her cultural protocols and actively confronts and compels viewers to process Indigenous occupation by how the physical and pictorial space is demanded.
The colours of her palette are endless, with her canvas being the world. She brings stories of her people to life through her practice and studies, ultimately elevating Indigenous knowledge. "It's really important to me that people look at my artwork and they know that it's Indigenous," (Kitchemonia, 2018). By painting intuitively, Kitchemonia combines the compositional aspects of abstraction and alternative structures with her most common motifs of feminine and Indigenous florals and intentionally vague human figures.
Saturday Night Pow Wow (2019) was made for the exhibition, Anuhkimo! Make Them Dance! (2019), with the cohesive thought being, "Pow Wow as a celebration of Indigenous identity," (Kitchemonia, 2021). Because Saturday night is the main event of a powwow, this painting was created monumental in size. The dancers are depicted with the three styles of Fancy Shawl, Jingle, and Traditional who are young, old, contemporary, and old-style. Flowers, colours, lines, and dots embody the sacred and the secular of her subject matter. The arbor is shaded with the freshly cut branches illustrated by the leaves scattered across the night skyline. The dots and the electrifying yellow and blue contour lines express that of the immaterial.
Brianna LaPlante
Bibliography
Ackerman, Jennifer. "Kêhtê-Ayak: New Teepee Art Installation Brings Indigenous History to Life." leaderpost. Regina Leader Post, September 13, 2018. https://leaderpost.com/news/local-news/kehte-ayak-new-teepee-art-installation-brings-indigenous-history-to-life.
Atter, Heidi. "Regina Artist Collective Ready to Showcase Indigenous Body Painting at World Festival in Europe | CBC News." CBCnews. CBC/Radio Canada, June 11, 2019. https://www.cbc.ca/news/canada/saskatchewan/sask-artists-world-festival-indigenous-body-painting-1.5170531.
LaPlante, Brianna, and Emily of Fifth Parallel Gallery. Fifth Parallel Gallery: Anuhkimo! Make Them Dance! Personal, October 27, 2021.
LaPlante, Brianna, and Larissa Kitchemonia. Saturday Night Pow Wow Artist Interview. Personal, October 25, 2021.
"Larissa Kitchemonia." Campus Art Guide: Larissa Kitchemonia. University of Regina President's Art Collection. Accessed October 1, 2021. https://www2.uregina.ca/president/art/college-avenue-campus/larissa-kitchemonia/.