Once a month the PHE Canada Research Council selects one of its members to profile as Researcher of the Month. Whether it's a university level teacher, academic, or graduate student, whoever is advancing research centered on topics and issues in physical and health education the Council wants to highlight. Do you know a PHE Canada Research Council member who's professional ideals & service strengthens the physical and health education sector? Whose research & writing drives change forward? Who's commitment and dedication to the field?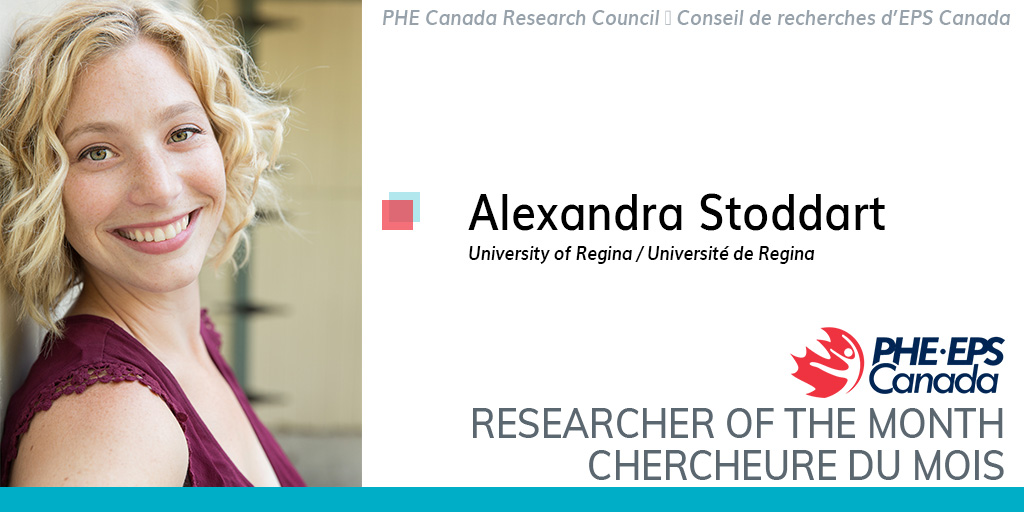 Researcher of the Month
Dr. Alexandra Stoddart is an Assistant Professor in the Health, Outdoor and Physical Education (HOPE) subject area in the Faculty of Education at the University of Regina. Before joining the U of R as a faculty member in January 2018, she completed her Ph.D. in Kinesiology at the University of Saskatchewan. Alexandra currently teaches HOPE undergraduate courses in both the Elementary and Secondary programs. She enjoys the opportunity to see her students learn, grow, and thrive as they engage in their pre-internship and internship experiences.
(Source: https://phecanada.ca/connecting/research-council/researcher-month )
Follow us on social media