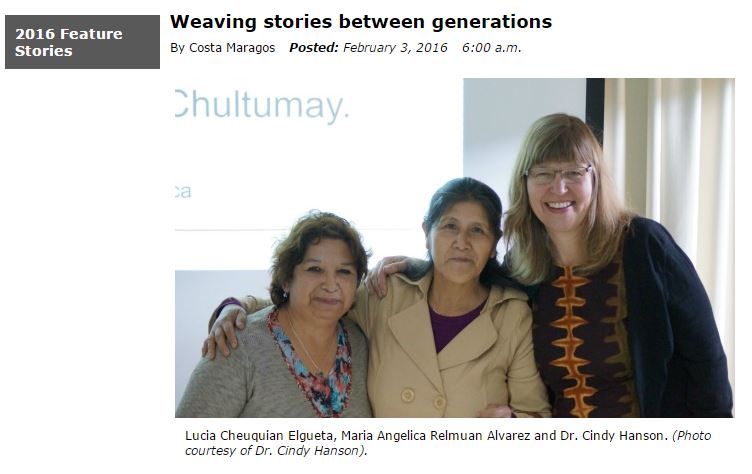 Click in image above to read the feature article by Costa Maragos
Intergenerational Learning




in Indigenous Textile Communities of Practice.


Research sites: Chile and Canada.
Book Now Available
Cindy Hanson is an educator whose work includes both formal and non-formal education in a variety of learning contexts – locally and globally. She is particularly interested in participatory, intersectional, and transformative forms of learning and facilitating and her research includes communities of practice and internationalization. Her transnational activism in gender equality was the subject of her doctoral work at UBC. Her work in the past two decades includes international development consultancies in over 12 countries.
Mapping Adult Education Website 

We invite you to explore pathways of our journey. Through the research we shared and explored varied experiences that lead us to the University of Regina. The journey is shared, yet unique. On our various journeys we have encountered, what we call, the "pathways" in adult education – those events, people or periods of time that have facilitated or obstructed our quest.
Adult Education, University of Regina – Facebook group

This group is for adult learners, students and others who are interested in the adult learning and the Adult Education programs offered through the University of Regina. This group is open for lively discussion, questions, and sharing information, publications or calendar events.