Stand-Up UofR: Trial of A Sit-Stand Workstation
* Participant recruitment complete – Fall 2017; Data analysis currently underway! *
Stand-Up UofR is a collaboration between the PA-Epi Lab and the Human Resources-Health, Safety & Wellness Unit, assessing the feasibility and impact of a sit-stand adjustable workstation for full-time office workers at the University of Regina.
UofR office workers (faculty and staff) volunteered for this study evaluating the benefits of an adjustable sit-stand workstation. The sit-stand workstation is set up at an individual's regular desk.
Participants were asked to take part in 3 1-week assessments, 2-4 weeks apart, including:
1st assessment: Questionnaire + Height/Weight measurements + 1-week wearing an activity monitor with usual desk set-up;
2nd assessment: A 1-week trial a sit-stand desk including activity monitor + questionnaire;
3rd assessment: Repeat of baseline with usual desk-set-up, wearing activity monitor for 1 week.
Participants received an ergonomic assessment of their current work set-up, their personalized results from the activity monitor, an education package and a 1-day pass to the UofR fit centre.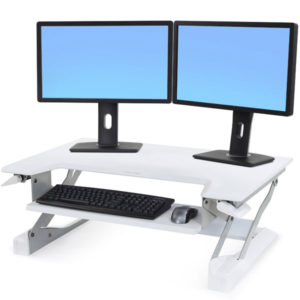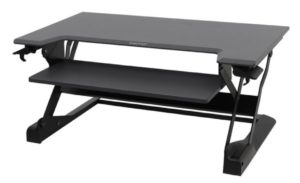 Supported by: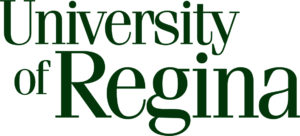 President's Research Seed Grant

This study has been reviewed and received approval
through the Research Ethics Board, University of Regina.